I am so excited to be taking part in this year's CBC Sounds of the Season!
SEE a live broadcast of CBC's Afternoon Drive Show.
MEET host Bob Steele, CBC London's Gary Ennett and Kerry McKee
HEAR top musical talent from London and special guests including The London Singers, Cameron Jericho, and me!
Proud to partner with the London Food Bank to help feed the hungry. Free admisstion: cash or food donations for the London Food Bank are welcome. Light refreshments. 2 hour parking validation provided for Citi Plaza underground lots.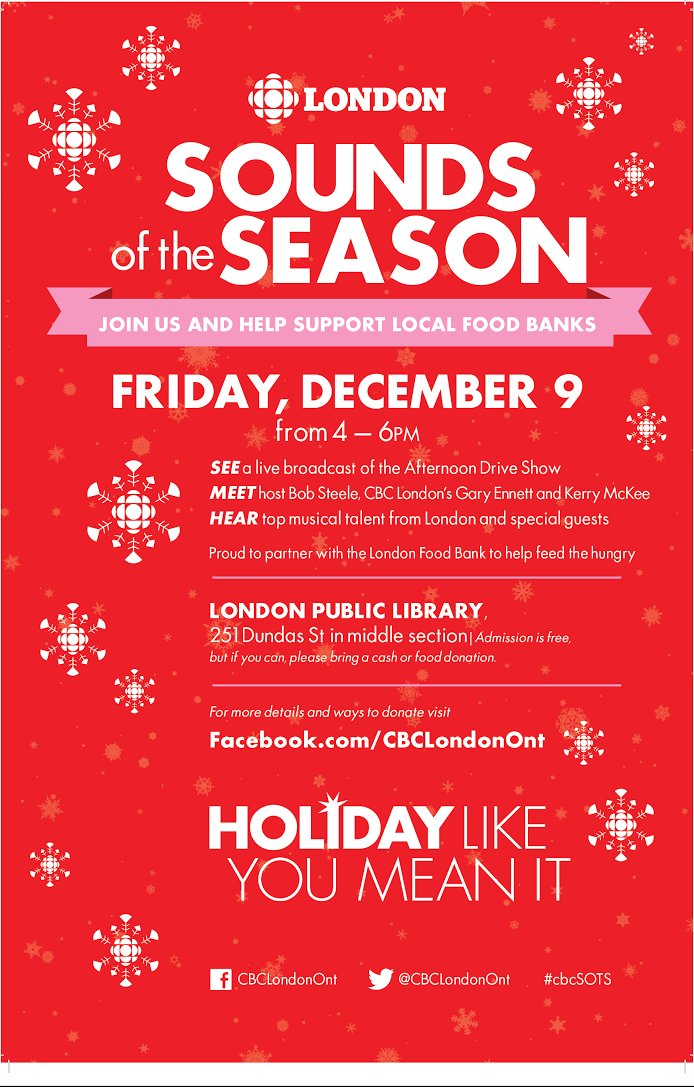 CBC London is launching a new digital station, located at the Central Library, this spring but you don't have to wait for your CBC experience! Join us on Friday, December 9 on the main floor of Central Library as London hosts its own Sounds of the Season, featuring a live broadcast of the Afternoon Drive show.
The London classical ensemble known as #WePlayOn is looking for a brand new brand while performing 3 pre-Christmas concerts under it's current banner....#WePlayOn also announced details about 3 pre-Christmas concerts...
Sonja is excited to be one of the featured artists at this year's Uptown Waterloo Jazz Festival - July 17-19, 2015! Performing her favourites from the Gershwin Songbook, Sonja will be joined by Toronto trio Jim Clayton (piano), Russ Boswell (bass), and David Peters (bass).
The Sun Life Financial UpTown Waterloo Jazz Festival is an annual 3 day FREE music festival held in Waterloo Ontario, encouraging all genres of jazz. This upcoming year, you are invited to their 23rd season where they look forward to entertaining more than 35,000 enthusiastic festival goers.
The lineup has just been announced - see who Sonja is pleased to be sharing the stage with at the great weekend jazz festival!